Plantar Fasciitis, Make the Pain Go Away
Anne writes,
"I enjoyed reading your information about yoga. I found it very helpful. I have a question. Several women I know who are in their early fifties are

suffering from plantar faciitis

. What suggestions or poses will help this?"
This is a great question. I get it all the time.
I think of the plantar fascia as the bow string that runs along the sole of the foot that helps maintain the nice arch in your foot.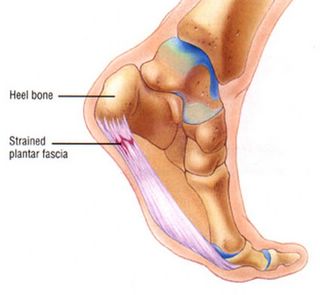 plantar fascia

When it gets inflammed and irritated, watch out. It's painful--right in front of the heel--and usually slow to heal. Once your start limping, the effects on the rest of your body start to add up quickly.
What should you do? Here are my suggestions:
1)
Stop doing whatever caused it in the first place
. I see this frequently in people who've recently gained weight or started doing something like a new job or exercise program in which their feet take a pounding. For instance, here in Jefferson City, many of my students work in the Capitol building. It has hard marble floors. During General Assembly session people are on their feet more and plantar fasciitis kicks in.
If you've gained weight, get busy and drop some pounds, soon. If you've started jogging or doing impact aerobics, stop. If you must work on a hard surface, make sure you have some serious arch support in your shoes and shock absorbing soles.
2)

Get the inflammation down

. I suggest taking fish oil capsules. Make sure they've been tested for heavy metals and other pollutants. And you'll need to take what seems to be

a lot of them

..like two capsules at each meal. It's really good for your heart health, by the way.

3) Until the pain goes away completely,

NEVER go barefoot

. This is especially important at home. Your feet start to feel good. Then, when you get up in the middle of the night to walk to the bathroom you re-injure your foot. This repeats itself over and over again. Instead, keep a pair of Birkenstock sandals or other slip-ons with excellent arch supports near your bed. Put your feet in shoes or sandals before you stand up.

The only exception to this is yoga

class. Take your shoes off for yoga class and yoga practice.

4)

Stretch your lower leg and foot EVERY TIME before you get out of bed

. Here's what happens: while you're lying in bed, the calves, achilles tendon, and connective tissue on the sole of the foot "shrink." They get shorter. When you stand up, you re-aggravate your plantar fascia. So, before you get out of bed, EVERY TIME, straighten your legs (take the bends out of your knees) and use the muscles on the fronts of your shins to pull your toes back towards your shins. Extend your heels away. Do this several times before your put your feet on the floor. Do it every time. It's called dorsiflexion of the ankle.


dorsiflexion, toes up



5) Twice a day,

sit on your heels for a few minutes in thunderbolt pose

, to rebuild the shape of your arches.


vajrasana

, thunderbolt pose



It works better if you can have your heels close together, rather than apart, as pictured.

Reclining hero pose is even better for your arches, if you can do it (

supta virasana

).


supta virasana

, reclined hero pose



One caution:

do not tolerate ANY knee pain

in these two poses. If you have knee pain while you're doing these pose, STOP. It doesn't do you any good to heal your plantar fasciitis and ruin your knees. Get help from an experienced teacher. But

do not sit in these poses if you have knee pain. Never

.

6) At least twice a day

stretch your calves, achilles tendons, and soles

of the feet. I recommend what some people call Japanese seated position. (This takes some real getting used to.)


sitting on flexed feet



And one-leg dog poses.


one-leg dog pose,

eka pada adho mukha svanasana



And warrior 1 poses, too.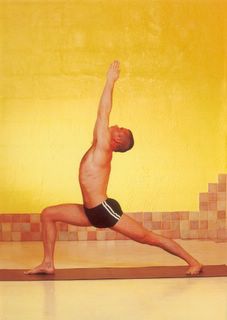 virabhadrasana

1, warrior 1 pose



I've found that I'm better off, once I'm completely back to normal, going barefoot a lot and wearing shoes with hardly any support. This seems like a contradiction, since above I told you not to do it. But once you're over the injury, this

strengthens

your feet.

I'd love to hear from you. Let me know how it goes. Or, if I can give your more detail on these suggestions, shoot me an email at info@experienceyoga.org or post a comment below..

Don't just read about it. Get up. Experience it. Experience

yoga!



Kevin Perry
www.ExperienceYoga.org

p.s., This the contents of this message and everything on this web page do not constitute medical advice. This material is

not

given for the purpose of diagnosis or treatment. For diagnosis or treatment, you should consult a licensed medical professional.

Copyright 2005. All rights reserved.

Kevin Perry
Mo Yoga LLC
1305 Elmerine Ave
Jefferson City, MO 65101
(573) 680-6737