Remembering Heroes with Bhava and Asana
Today is Memorial Day. Today we remember.
I am grateful that every day I benefit from the freedoms for which others fought and died. They made the ultimate sacrifice. They paid the greatest price. They went before me and made my way possible.
It's so confusing at times to consider that the great teaching of yoga is
ahimsa
, non-harming. From ahimsa, all the other
yamas
flow.
So if yoga is so big on non-harming why are yoga poses dedicated to warriors (
virabhadrasana
1, 2, & 3 and
hanumanasana
) and heroes (
virasana
)? The teachings of
The Bhagavad Gita
all take place on a field of battle! What gives?
warrior pose 2,

virabhadrasana

2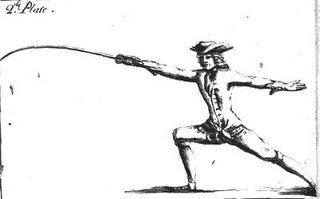 a swordsman's lunge looks familiar

hero pose,

virasana

One of the greatest ways to avoid harm to others, especially those who are weaker in some way, is to sacrifice yourself for their benfit. The Christian scriptures say,
"No one has greater love than this, to lay down one's life for one's friends." (John 15:13)
The Bhagavad Gita was all about duty, carrying out your duty with trust in God.
One who does all work as an offering to God — abandoning selfish attachment to the results — remains untouched.... (5.10)
The warriors honored by these yoga poses are not unlike those who've been injured and killed in our times. They took great risks and suffered injuries and wounds so that we would be protected. They deserve our honor. They deserve to be remembered.
My tip today is
bhava
.
Bhava
literally means 'becoming' or 'that which becomes.' It's your state of being, your emotional state. It's a state of mind that can then be experienced internally and then externally. You can cultivate a state of mind.
When you practice poses (
asana
) with
bhava
, an emotional state, you deepen your practice and catapult it beyond gymnastics or circus stunts.
Today, won't you join me in practicing
virabhadrasana
2, warrior 2 pose? Right before you come into the pose, pause and look inward. Cultivate the emotional feeling tone of great honor and gratitude for those who have sacrificed for you.
And then keep going. Practice all of your
asana
, every day,
by first cultivating a strong emotion. Gratitude. Celebration. Even sadness will make your practice richer.
Don't just read about it. Get up. Experience it. Experience
yoga!
Kevin Perry
www.ExperienceYoga.org
p.s., It wasn't just those who went to war who sacrificed on your behalf. Many people in your life, teachers, parents, grandparents, ministers, volunteers, and neighbors gave selflessly for your benefit. Remember them today, too. I especially want to remember my cousin, Terry Graham, who died in December.
p.p.s., Happy Birthday, John Friend, founder of Anusara yoga.
Copyright 2005. All rights reserved, Mo Yoga LLC.